If you are using other hosting programs, you must sync those calendars with your Agoda calendar. This prevents double bookings and overall simplifies your experience as a host. You must export your calendar to the other platforms you use and you must import your calendars from those platforms into Agoda. At this time, Agoda supports importing calendars from HomeAway, AirBnB, and Booking.com.


Import Calendar
Calendar importing allows you to automatically keep your Agoda calendar up to date with other online platforms that support the iCalendar format including Booking.com, Airbnb, and HomeAway. It's important to keep track of calendars on each of the booking platforms you use to avoid confusion or cancellations, which can affect your Top Host status.


To import your calendar:
Go to Calendar tab

Click Calendar Sync

Select Import Calendar

Copy an URL from your desired Calendar and paste the URL in the Calendar Address (URL) field

Name your Calendar (Calendar Name should contain at least 2 characters; only letter and numbers are allowed)

Click Import Calendar

If this message appears: "The URL provided is invalid. Please try again." The link might not be accessible or might be the wrong kind of calendar link.

Every calendar you import has a Remove option next to it. Clicking Remove deletes the imported calendar and stops any syncing. Clicking Sync Calendar button will process to sync.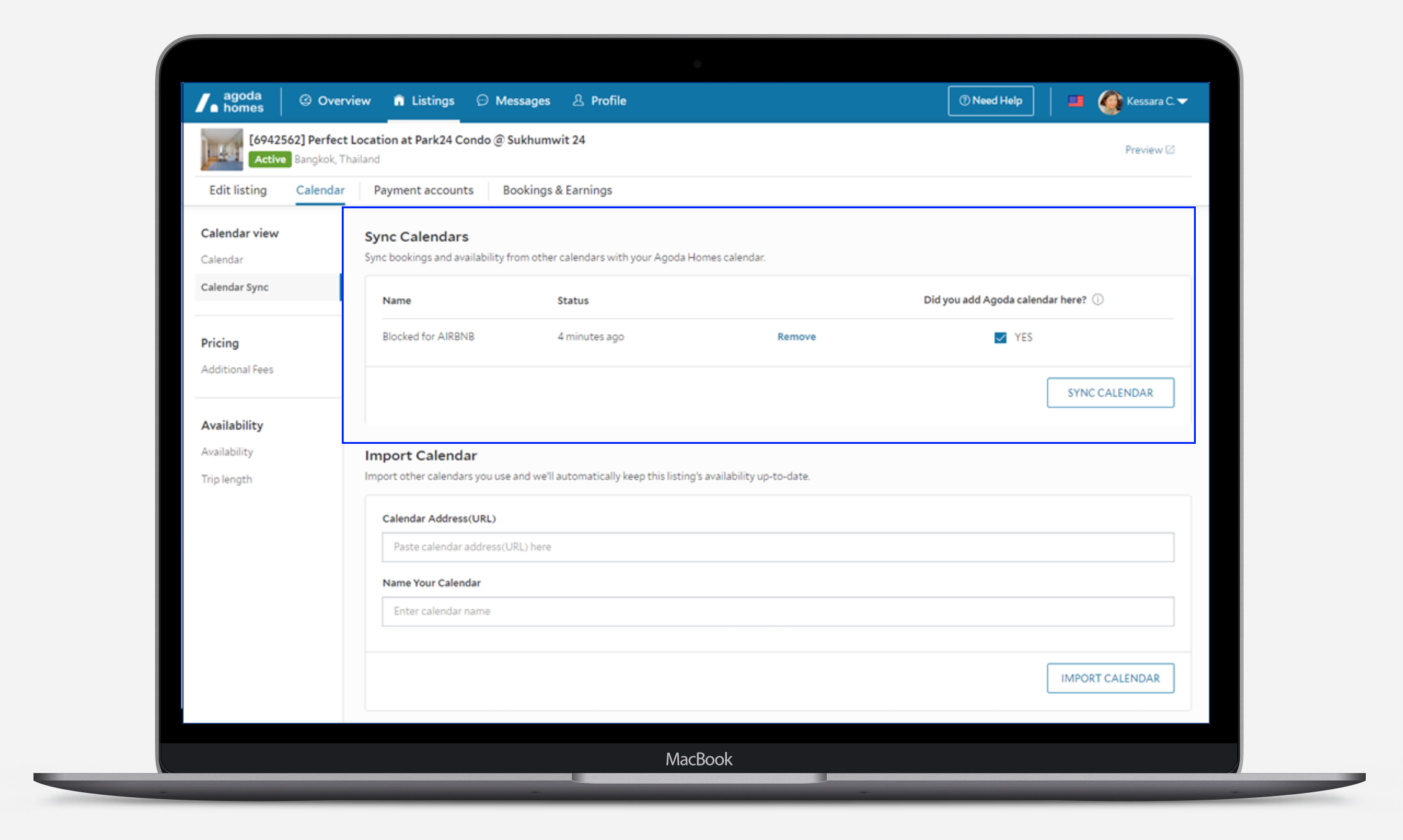 Export Calendar
Calendar exporting lets you view your Agoda calendar on an external calendar that supports the iCalendar format. You will need to learn how to both import and export calendars in order to use the Calendar Sync function.
Please review the instructions for AirBnB, HomeAway, and Booking.com thoroughly! Double bookings are very stressful for both guest and host and can cause cancellations that affect your Top Host status.


To export your Calendar:
Go to Calendar tab

Click Calendar Sync

Select Export Calendar tab

Click Copy and paste Agoda calendar's URL into other iCal applications.


You may also delete calendars if you wish:
Delete your calendar :
Under Calendar Page, click

Calendar Sync

Select

Remove

for any of the calendars that you want to delete

Importing and Exporting on Homeaway, AirBnB, and Booking.com
Homeaway, AirBnB, and Booking.com all support the iCalendar format so the importing and exporting instructions will be similar; however, you should read through the instructions for each platform you use carefully. For your convenience, links to importing/exporting instructions for each site are provided below:
Homeaway:
To import the calendar from Homeaway:
1. Log in to Homeaway
2. If you have more than one property, select the property you wish to edit
3. Click the Calendar icon in the left navigation menu
4. Click Reservations
5. Click the Import/Export arrows icon
6. Click Export Calendar
7. Copy the Homeaway's calendar URL
8. Go to Manage Listing on Agoda
9. Go to Calendar
10. Click Calendar Sync
11. Select Import Calendar
12. Paste Homeaway's calendar URL onto Calendar Address (URL)
13. Name your calendar
14. Click Import Calendar
To export Agoda calendar to Homeaway:
1. Go to Manage Listing on Agoda
2. Go to Calendar
3. Select Calendar Sync
4. Select Export Calendar
5. Copy Agoda's calendar URL
6. Log in to Homeaway
7. If you have more than one property, select the property you wish to edit
8. Click the Calendar icon in the left navigation menu
9. Click Reservations
10. Click the Import/Export arrows icon
11. Click Import Calendar
12. Give the calendar a name
13. Select a color to represent the calendar
14. Enter the Agoda's calendar URL
15. Select whether the calendar will block availability. (Note: to block availability, the event must span at least one night.)
16. Click Import Calendar
https://help.homeaway.com/articles/How-do-I-import-my-iCal-or-Google-calendar

AirBnB:

To import the calendar from AirBnB:
1. On Airbnb.com go to Host and select Calendar
2. Click Availability settings in your calendar view
3. Under Sync calendars, select Export Calendar
4. Copy the Airbnb calendar link
5. Go to Manage Listing on Agoda
6. Go to Calendar
7. Click Calendar Sync
8. Select Import Calendar
9. Paste Airbnb's calendar URL onto Calendar Address (URL)
10. Name your calendar
11. Click Import Calendar
To export Agoda calendar to AirBnB:
1. Go to Manage Listing on Agoda
2. Go to Calendar
3. Select Calendar Sync
4. Select Export Calendar
5. Copy Agoda's calendar URL
6. On airbnb.com go to Host and select Calendar
7. Click Availability settings in your calendar view
8. Under Sync calendars, select Import Calendar
9. Copy the URL for your other calendar into the Calendar address (URL) field
10. Name your calendar
11. Click Import calendar

https://www.airbnb.com/help/article/99/how-do-i-sync-my-airbnb-calendar-with-another-calendar
Booking.com:
To import the calendar from Booking.com:
1. Log on to Booking.com extranet and click the Rates & Availability tab or Calendar (or a specific room name to access its calendar)
2. Scroll down to the Sync Calendars box below the calendar
3. Click the blue Export Calendar button. In the pop-up box that appears, click Copy link and paste this link into Agoda calendar
4. Go to Manage Listing on Agoda
5. Go to Calendar
6. Click Calendar Sync
7. Select Import Calendar
8. Paste Booking.com's calendar URL onto Calendar Address (URL)
9. Name your calendar
10. Click Import Calendar
To export Agoda calendar to Booking.com:
1. Go to Manage Listing on Agoda
2. Go to Calendar
3. Select Calendar Sync
4. Select Export Calendar
5. Copy Agoda's calendar URL
6. Log on to Booking.com and click the Calendar tab or Rates & Availability (or a specific room name under the tab to access its calendar), then scroll down to the Sync calendars box above the calendar
7. Click the Import calendar button. In the pop-up box that appears, paste the Agoda's calendar URL 
8. Under Name your calendar, add a name and click the blue Import Calendar button to save the changes
9. Wait for this message to appear: [Calendar name] is now synced to your Booking.com calendar. You can now refresh this calendar and add more imported calendars
10. If this message appears: This isn't a valid iCal URL – please try again, the link might not be accessible, or it's the wrong type of calendar link
11. Every calendar you import will have the Refresh and Remove options that appear alongside them. Clicking Refresh automatically syncs the imported calendar. Clicking Remove deletes the imported calendar and stops any syncing
https://partnerhelp.booking.com/hc/en-us/articles/115005213509-How-to-import-or-export-a-calendar