If you list your property on Agoda and other websites, you can prevent multiple guests from booking the same dates by syncing your Agoda calendar with your other calendars.
In order to ensure your Availability is accurate across all online channels, you may need to export and import your calendar
Import Calendar
Calendar importing allows you to automatically keep your Agoda calendar up to date with other online channels that support the iCal format including Booking.com, Airbnb, HomeAway
Export Calendar
Calendar exporting lets you view your Agoda calendar on an external calendar that supports the iCal format.
Steps:
To import your calendar:
Go to Calendar tab

Click Calendar Sync
Select Import Calendar
Copy an URL from your desired Calendar and paste the URL in the Calendar Address (URL) field
Name your Calendar (Calendar Name should contain at least 2 characters, only letter and numbers are allowed)

Click

Import Calendar

If this message appears: This isn't a valid iCal URL – please try again, the link might not be accessible or might be the wrong kind of calendar link.
Every calendar you import has a Refresh and Remove option next to it. Clicking Refresh manually—and automatically—syncs the imported calendar. Clicking Remove deletes the imported calendar and stops any syncing.
To export your Calendar :
Go to Calendar tab

Click Calendar Sync
Select Export Calendar tab
Click Copy and paste Agoda calendar's URL into other iCal applications.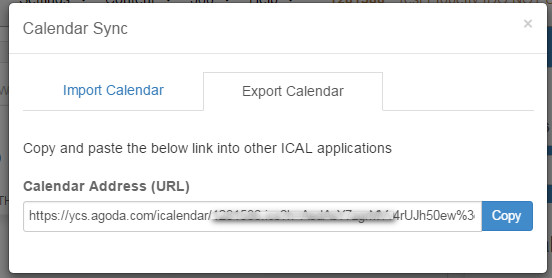 Delete your calendar :
Under Calendar Page, click "Calendar Sync"
Select the bin icon for any of the calendars that you want to delete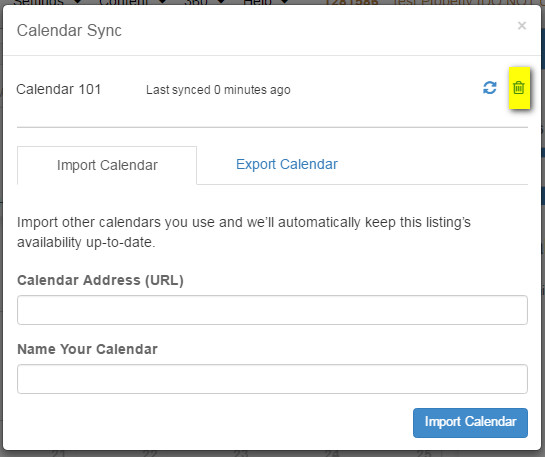 Airbnb:
Import calendar from Airbnb
1. Go to Manage Listing on Airbnb
2. Click Manage Listing of the listing you would like to edit
3. Click Availability
4. Select Export calendar
5. Copy Airbnb's calendar URL
6. Go to Manage Listing on Agoda
7. Go to Calendar
8. Click Calendar Sync
9. Select Import Calendar
10. Paste Airbnb's calendar URL onto Calendar Address (URL)
11. Name your calendar
12. Click Import Calendar
Export calendar to Airbnb
1. Go to Manage Listing on Agoda
2. Go to Calendar
3. Select Calendar Sync
4. Select Export Calendar
5. Copy Agoda's calendar URL
6. Go to manage Listing on Airbnb
7. Click Manage Listing
8. Click Availability
9. Click Availability Settings in the top-right corner 
10. Under Sync Calendars, select Import calendar
11. Paste Agoda's calendar URL onto Calendar Address (URL)
12. Name your calendar
13. Click Import Calendar
HomeAway:
Import calendar from Homeaway
1. Log into your account
2. Click Calendar
3. Select property
4. Click Import/ Export Calendar icon
5. Click Export Calendar
6. Copy Homeaway calendar
7. Go to Manage Listing on Agoda
8. Go to Calendar
9. Click Calendar Sync
10. Select Import Calendar
11. Paste HomeAway's calendar URL onto Calendar Address (URL)
12. Name your calendar
13. Click Import Calendar
Export calendar to Homeaway
1. Go to Manage Listing on Agoda
2. Go to Calendar
3. Select Calendar Sync
4. Select Export Calendar
5. Copy Agoda's calendar URL
6. Log into your account
7. Click Calendar
8. Select property
9. Click Import/ Export Calendar icon
10. Click Import calendar
11. Name calendar
12. Select color to represent the calendar
13. Paste Agoda's calendar URL
14. Select whether the calendar will block availability
15. Click Import calendar