No matter how attractive your property is or how complete the amenities are, it all comes down to the credibility of your home. Giving your listing an identity helps to build trust and credibility, increasing the likelihood of getting bookings.
Host photo: Guests looking to stay at a property feel more comfortable communicating with a host they can see. Here are some tips for choosing the ideal host profile photo:
Choose a friendly, smiling photo of yourself
Make sure your eyes are visible and your hair and clothes are nice
Go for a photo that is bright and clear rather than shadowy
Photos of landscapes, animals, cartoons, or anything but yourself are not recommended.
Did you know? A study on host-accommodation platforms found that when a host is perceived to be trustworthy, the better the listing will be and higher the probability of the listing being booked.
Host name: Provide your First and Last name, and then the Display name. First and Last name is used for Agoda's internal purposes only and will not be visible to customers. Display name is visible on the property's page. You can either put your nickname or your initials here. We recommend you put your first name or nickname and your last name initial as your Display name.
Preferred language: Flaunt your language skills to get more bookings. This may be a selling point for overseas guests who are looking for hosts that can speak their native language.
Host location: Tell your guests which country, state, and city you live in so that they are aware which time zone you are in. Don't worry, your exact location will be used internally and will not be publicly displayed on your listing.
Host description: Now this is an opportunity to make a good impression with your potential guests by letting them know you more on a personal level. Greet them, tell them who you are, where you are from, or what are your interests. The key is to be relatable. Guests are more likely to book from a host that they can identify or connect with.
Here are some topics you can write about to describe yourself:
Where did you grow up?
What is your main occupation?
What are your passions and interests?
Why did you decide to become a host?
What do you enjoy most about being a host?
Did you know? A study on host-accommodation platforms found that travelers demonstrated higher trust and intention to book listings from hosts whose bio conveys them as being well-traveled.
Note: Host photo, display name, location, and description will be displayed on the property's page. We currently support only English characters and your property's local language for free-text fields.
Update on Web
Sign in to www.agoda.com/homes with your newly created password and go to the Profile tab. All fields related to your host profile are included within this page.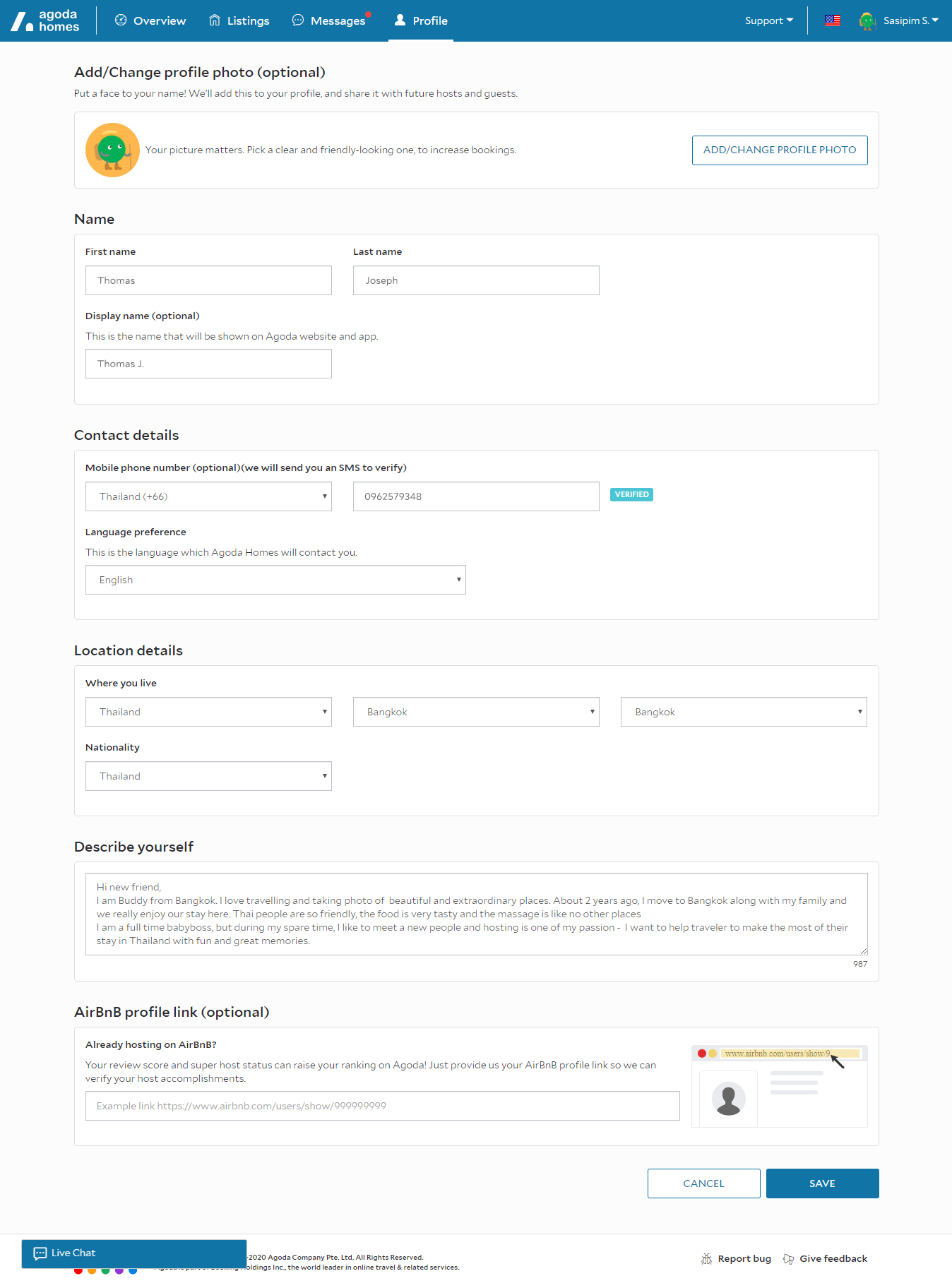 September 4, 2020
To update your host profile information later, you may always come back to the Profile page.
Update on App
If you are creating your host profile for the first time on Agoda Homes and do not have any active listings yet, locate your host profile page by clicking on Profile and fill in all the details.

September 4, 2020
If you are a returning host and already have live listings on Agoda Homes, you will be able to access your host profile page by clicking on View your progress under Overview. Then, click Edit.

September 4, 2020