The Channel Manager must be selected on the Pricing page.
A Channel Manager is a tool that allows you to manage your property on all online platform sites. It will automatically update your price and availability in real time.
If you already have a Channel Manager, you can select it from the available options on the Pricing page. Prices and availability for your property on Agoda will then be automatically assigned.
If you are unable to find your Channel Manager in the drop-down list, please contact us.
Once you have assigned a Channel Manager to your property, setting a nightly price is not required as we will be getting that information via the Channel Manager sync.
After completing the registration of your property, you will receive an email like this one to map your Agoda property on your Channel Manager's system: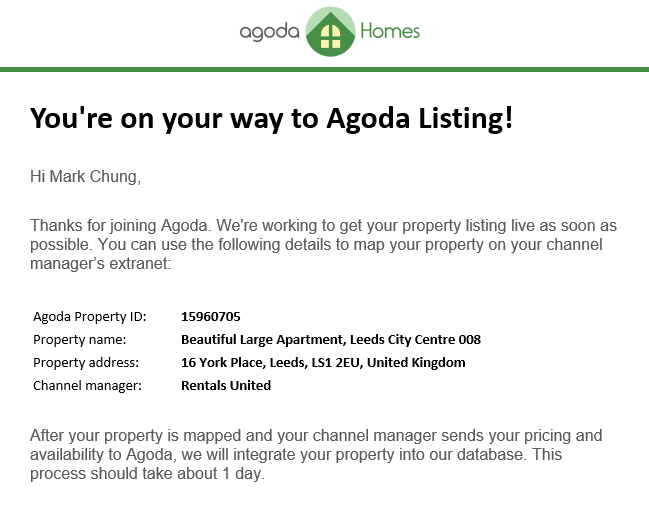 September 04, 2020
You will also receive an email notification of the mapping progress and status:

September 04, 2020
Note: You can add a Channel Manager only when you are creating the property. If you want to activate or edit a channel manager after the property is live, please contact us.
Update on Web
Once you have completed adding your property's Amenities details, click Next and move on to the Pricing page. Select Yes, I use… (and the Channel Manager's name from the drop-down) if you use a Channel Manager to manage your property. Otherwise, select No.

January 10, 2023
Update on App
If you are creating a new property and have completed adding amenities, move on to the Pricing page and select Yes, I use and the name of the channel manager from the drop-down.

September 04, 2020