When your property receives a booking, you will receive an email confirmation from us. In case you miss the email notification, you may locate your Bookings page.
We also encourage you to acknowledge all confirmed bookings. Not acknowledging the booking does not mean that the booking is not confirmed. However, acknowledging it signals to us your acceptance to honor the booking.
Update on Web
To check your booking on website, go to Listings page and click Bookings & Earnings. Then, click View bookings.
August 7, 2020
Click Search and you will be able to view all bookings for the property. You may use various filters such as stay date, booking date, or even key in the Booking ID to locate specific bookings. Click on the booking to see its details. You can acknowledge this booking by clicking on Pending acknowledgement.
August 7, 2020
You may also acknowledge the booking directly from our booking notification email.
August 7, 2020: Booking confirmation email notification sample
Update on App
To check your bookings, go to the Reservations page. There are 3 tabs:
R

equest

:

If any of your propert

ies

are

set

up as

Requires reservation request,

you will find the l

ist of all

reservation

request

s

that

are awaiting your confirmation

here.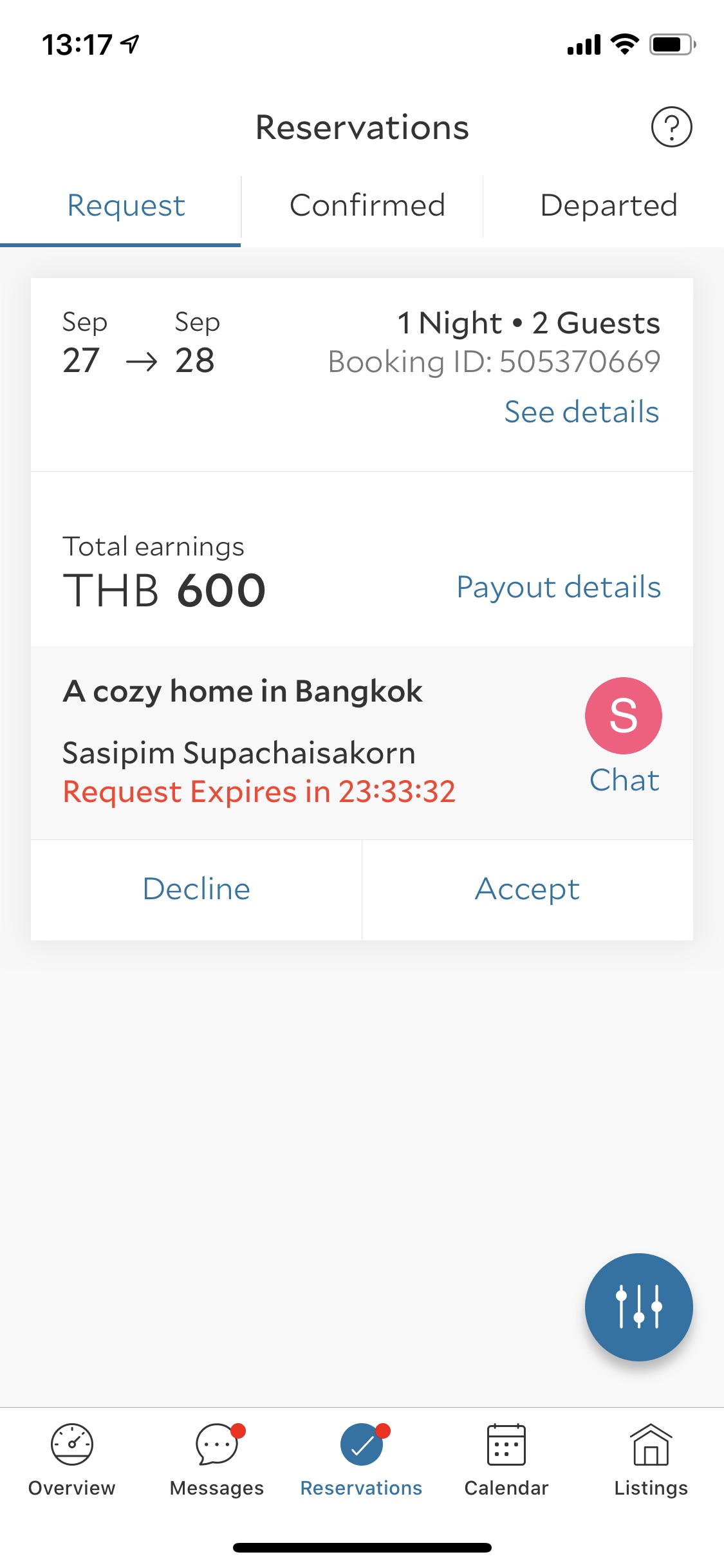 August 7, 2020
Confirmed

:

All confirmed bookings

, before or after guest check-in, are listed here. You can see all your upcoming or ongoi

ng confirmed reservations here.

To Acknowledge

a

booking

,

click

A

cknowledge.

Click

See details

to

check

guest name, check-in and check-out date, property name

,

and

Agoda booking ID

. If you

wish to communicate with the guest

,

use the

Guest

tab

to check the guest's contact details

.

August 7, 2020
Departed

:

All departed bookings show up here.

If you have

n

o

t

submitted

a

payout request

for any of the departed bookings,

you will see

P

ending approval

against that booking

.

Click here

to see how you may request payouts for the departed bookings.

You may also

activate Auto Pay to automatically receive payments

.

August 7, 2020