As a traveler, you can imagine how nerve-wrecking it would be to never hear back from the host whose property you booked? Proactive communication with your guests can be a game-changer in terms of inspiring customer trust. Not sure how frequently you should communicate with your guest? Here are some tips:
Send your guest a welcome note right after you receive the booking confirmation from us. We usually share your property's check-in instructions

with the guest right away

.

B

ut if there are more details you want to provide, this is the time! Let them know that you will be in touch with them before their arrival as well.

There are times your

guest

s

may send a

special request

. W

e recommend

responding

to

their request with

either

A

ccepted

(

you can guarantee th

eir request

)

or

Not accepted

(

you are unable to fulfill their request

)

.

If you are unsure

and will let them know upon arrival

, you can choose

Subject to availability

.

One to three days before check-in, send them a pre-arrival message with information such as how to get

to

your property from the nearby airport or railway station

.

Remind them of the check-in instructions again and check if they have any special requests

.

Keep in touch with your guest during their stay to ensure that you can promptly resolve any issues they may face in your property.

Right after the

gu

e

st

checks out, send them a message thanking them for choosing to stay at your property. This is also a good time to request them to leave a review on Agoda.
Update on Web
To access all your messages on the web, go to the Messages page.
August 7, 2020
Update on App
To communicate with your guests or respond to a guest's message, go to the Messages page. You will see the guest name, latest booking status (inquiry, confirmed, declined, expired, or cancelled), property name, and the message time.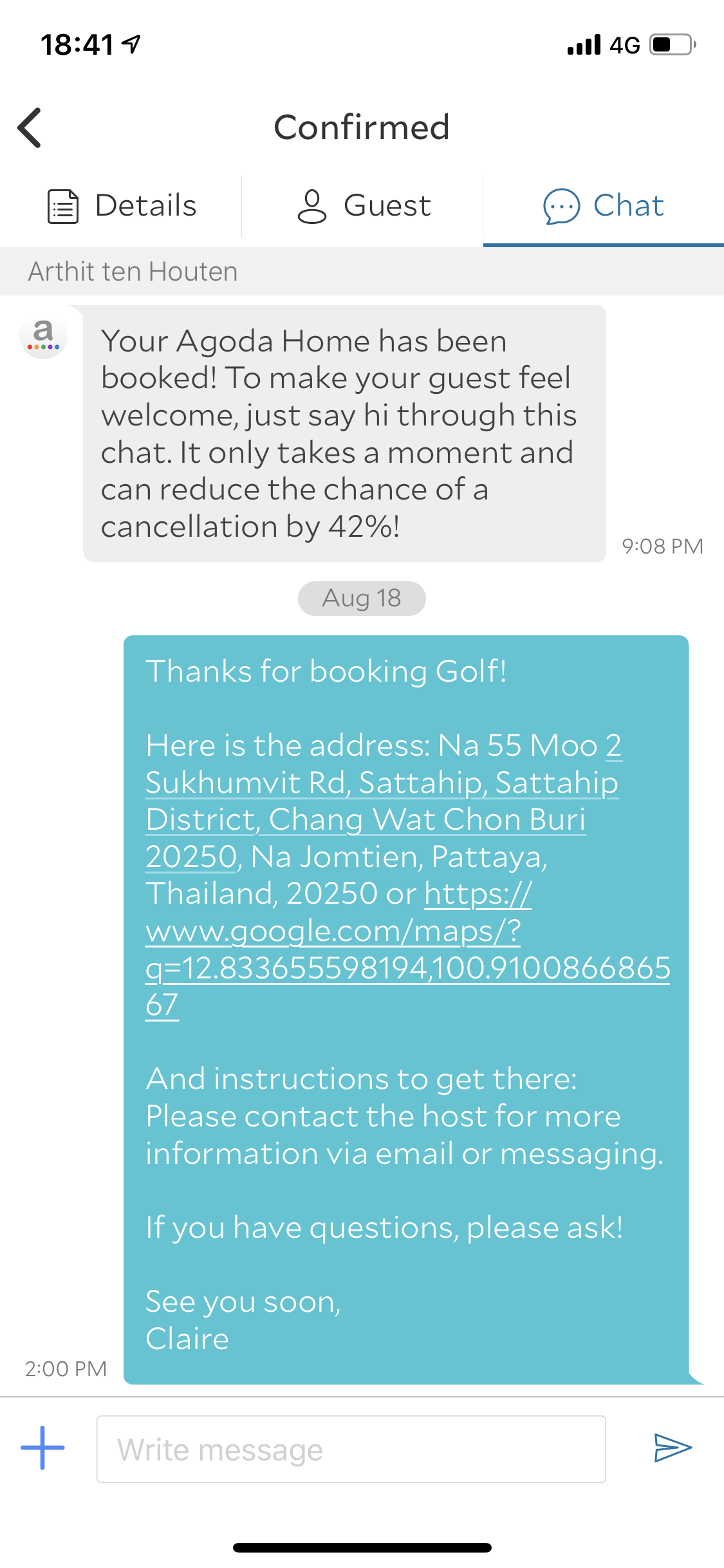 August 7, 2020
Click + to share your contact information, such as phone and email, and images that will help guests easily find your property. You may also use previously created message templates from Saved messages. Please note that your phone number must be verified before it can be shared with guests.

August 7, 2020